Since we have been making use of the Quinny Zapp Flex Pushchair for over three months at this point, I figured that now would be a good time to write a review and share all of my opinions with you all! The Quinny Zapp Flex was released in UK back in May 2017, it's modern, sleek and versatile which is perfect for us in the city or for parents who are constantly "on the go". This particular version is suitable from 6 months to around 3.5 years (15kg) or birth when you combine it with either the Quinny from birth cocoon, Quinny lux carrycot or a colour coordinating maxi cost peddle plus car seat.
Key Facts
The seat unit can face both ways AND reclines fully in both directions.
It also comes with 4 large puncture proof swivel wheels.
The seat is made using water resistant fabrics so you can easily wipe away any spills.
Incudes a raincover.
Extendable sun canopy with UV 50+ protection.
5 point harness
The Quinny Zapp Flex retails around £295

Design
You may easily lay back the Zapp Flex seat completely, whether facing the parent or the street, to prolong your babies sleep. As each outing you and your baby embark upon is unique, you need a stroller that can adapt to the many terrains you'll encounter. This requires wheels that are both small and easily manoeuvrable.
When folded, the frame takes up very little space. Because it is so well balanced and not overly heavy, the Frame may be easily carried in one hand. Unfolding is accomplished by following the 3 – 2 – 1 signs. When unfolded, the sturdy 'horn-like' handles provide the user with an immediate sensation of complete control over the fluid glide.
The seat assembly clicks into place on two pegs on either side of the frame, providing a sense of security. This is not just a sound effect; in fact, it is clicking into a really innovative mechanism that enables the seat to be withdrawn from the frame in a fluid motion that requires only one hand. More will be spoken about this at a later time. The installation of the seat requires two people because it can be difficult to do with one hand alone.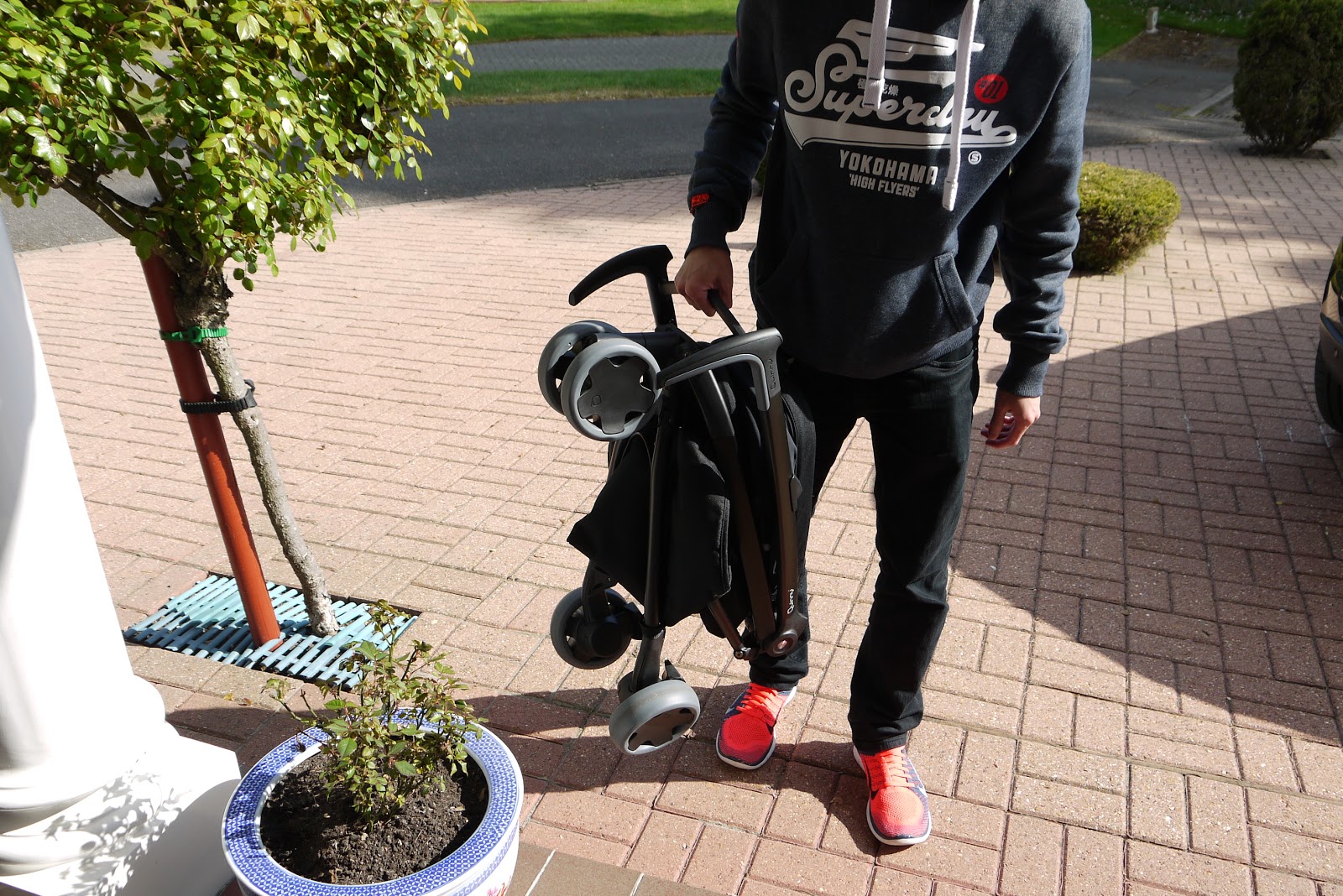 What I like About It
Folds up small as shown in the photos in an easy 3 step process.
Does not take up a lot of space at all in the car boot.
Light weight compared to my old iCandy Strawberry 2 which I have since sold on.
The seat fully reclines so when they fall asleep they can be flat sleeping position making it more comfy.
Very easy to clean as mentioned above it's water resistant fabric. If we are out and about and she doesn't want to leave then tempt her to go back in the push chair with some snacks. Kids being kids they are not the tidiest of eaters so if it gets dirty you can wipe it clean easily.
She certainly feels more comfy in it when it's positioned facing outwards and the back straight so she can see everything. With out old buggy the seat is not upright so she can't see everything fully so she's not happy being in the buggy for too long which can be a pain when we are out and about.
It comes it a huge variety of colours however we picked black as the colour as it's neutral if we decide to have another baby.
It looks super stylish.
Being in an apartment we don't have a lot of space and the wheels click on and off which makes storage a lot easier and space saving.
What I dislike About It
Small basket for your shopping at the bottom but I guess that is to be expected if it folds up small. You can buy the additional shopping bag to clip onto the handles for extra storage but personally for me I prefer to keep the pushchair simple.
At first the pushchair is stiff to close up because it's new so it does take a good 2-3 weeks of use to soften everything up so it closes easily.
We also brought it with us when we went on a cruise vacation to Norway a month ago. There, this pushchair was put to the ultimate test on the bumpy gravel roads, but it was able to pass the test with flying colours because the baby slept through it.
Summary
In general, we really like this stroller, and our only regret is not buying it right away when our first child was born. Since we started using this, the little one has shown a significant preference for it, leading us to make the decision to get rid of our previous stroller and replace it with this one. It is pricey, but for something that you use on a daily basis, it needs to be comfortable for both you and the little one as well as practical, and this fulfils all of those requirements.