Are you ready to make a change? Have you decided that it is finally time to put down the candy bars and do something with your health? You are not going to live forever, but you can make yourself much healthier and potentially prolong your life. In order to improve your health and get into shape, you need to exercise. Unfortunately, exercising can often be very expensive. If you want to skip the gym membership, you should consider investing in the overall pedal exerciser. With this device, you'll be able to exercise at home, save money and still get into shape.
Within this comprehensive guide, you will find tips that will help you pinpoint the best pedal exercise for your money.
Buying Guide For Pedal Exercisers
There are tons of excellent pedal exercisers on the market, but not all of them are equal. There are numerous factors that can set them apart. By taking the below factors into consideration, you will have a much easier time ensuring that you get the best product for your money.
Resistance
First and foremost, you should realize that pedal exercisers usually come with a resistance setting. By increasing the resistance, you will make the exercises much more difficult. By decreasing the resistance, the workouts will become much easier. When choosing one of these devices, it is pertinent to select one that offers a wide range of resistance levels. More is always better.
Usability
Since pedal exercisers are compact and lightweight, some are not so easy to use. If you're not careful, you may end up buying a machine that slides all around the floor. This is something that you need to avoid at all costs. Do whatever possible to ensure that you choose an exerciser that is actually usable. The product should be equipped with non-sipped rubber feet to ensure it doesn't slide around when in use.
Portability And Storage
Nothing is worse than a cluttered home. With that being said, you need to make sure that your exerciser can be stored away very easily. It should be lightweight, compact and easy to move from place to place. After you've finished using the machine, you should have no trouble picking it up and storing it out of view. Make sure that you choose an exerciser that is light enough to be carried around easily.
Assembly Requirements
When looking at pedal exercisers, you will see that some of these machines require assembly. If you want to make your life as simple as possible, you should do everything possible to choose a unit with minimal assembly. In fact, you should choose a unit that comes completely preassembled. This will make your life easier, while also ensuring that you'll be able to use the unit almost immediately.
Size
Finally, you should choose a size that perfectly matches your body. Some people have longer and wider legs than others. To ensure that you're able to use the machine comfortably, you should choose one that perfectly suits your size. Make sure that the leg grips are positioned in a way that allows you to use the machine comfortably without any strain.
Best Pedal Exerciser in UK
66fit Folding Arm and Leg Pedal Exerciser

If you are a full time working parent, you already know that getting and staying in shape can be extremely tough. In fact, you probably have trouble finding the time to cook your kid's dinner at night. With that being said, the 66fit Folding Arm and Leg Pedal Exerciser can ensure that you feel young, good, and get in the best shape of your life.
Adjustable Resistance
One unique thing about this piece of equipment is that the resistance on the pedals can be adjusted. Whether you are looking for a quick intense workout or you want to go for a long endurance based workout, you have the option of achieving either with the resistance adjustments. The unit also comes equipped with handy non-slip rubber grips, so it doesn't matter what type of surface you place this device on it will not slip and slide during your workouts.
Pros

Non-slip rubber grips ensure that the unit stays in place during workouts
Adjust resistance levels to intensify your workouts
Designed for the home or office
Extremely easy to assemble
Includes toe straps to keep feet locked in
Cons
Might be a bit noisy in some situations
Overall Assessment
If you have a hard time finding the extra time to get in shape and stay in shape, you need to invest in the 66fit Folding Arm and Leg Pedal Exerciser. Works great and very conveniently designed.
Aidapt Pedal Exerciser With Digital Display
Exercise plays a huge role in health and fitness. However, it can be extremely difficult for full-time parents and workers to spare the time for routine workouts. With this said, the Aidapt Pedal Exerciser is key to enveloping exercise into your daily regimen. The exerciser provides a lower body workout, which can be completed while in the sitting position.
Sturdy Frame
The Aidapt Pedal Exerciser is designed with a metal frame to ensure stability, durability and longevity. To protect the floor from scratches and scuffs, Aidapt included for rubber caps on each end. The caps will also prevent the exerciser from moving around during use.
Fold-Up Design
Whether your plan to exercise at home or work, the Aidapt Pedal Exerciser will suit your needs. In fact, the exerciser will fold up after each use, so you can store it away in a small cubbyhole or closet.
Pros

Very portable (weighs 114 kilograms)
Fold-up design for easy storage
Metal sturdy frame
Rubber end caps to prevent sliding
Embedded with a convenient digital display screen
Easy assembly
Great for arms and legs
Cons
Squeaks after prolonged use
Tall-statured people may not be able to use under a traditional desk
Overall Assessment
The Aidapt Pedal Exerciser is perfect for individuals who parents, senior citizens and workers, who spend most of their day sitting. The digital display provides direct access to your progress.
Oypla Arm/Leg Mini Cycle Pedal Exercise Resistance Bike Fitness Gym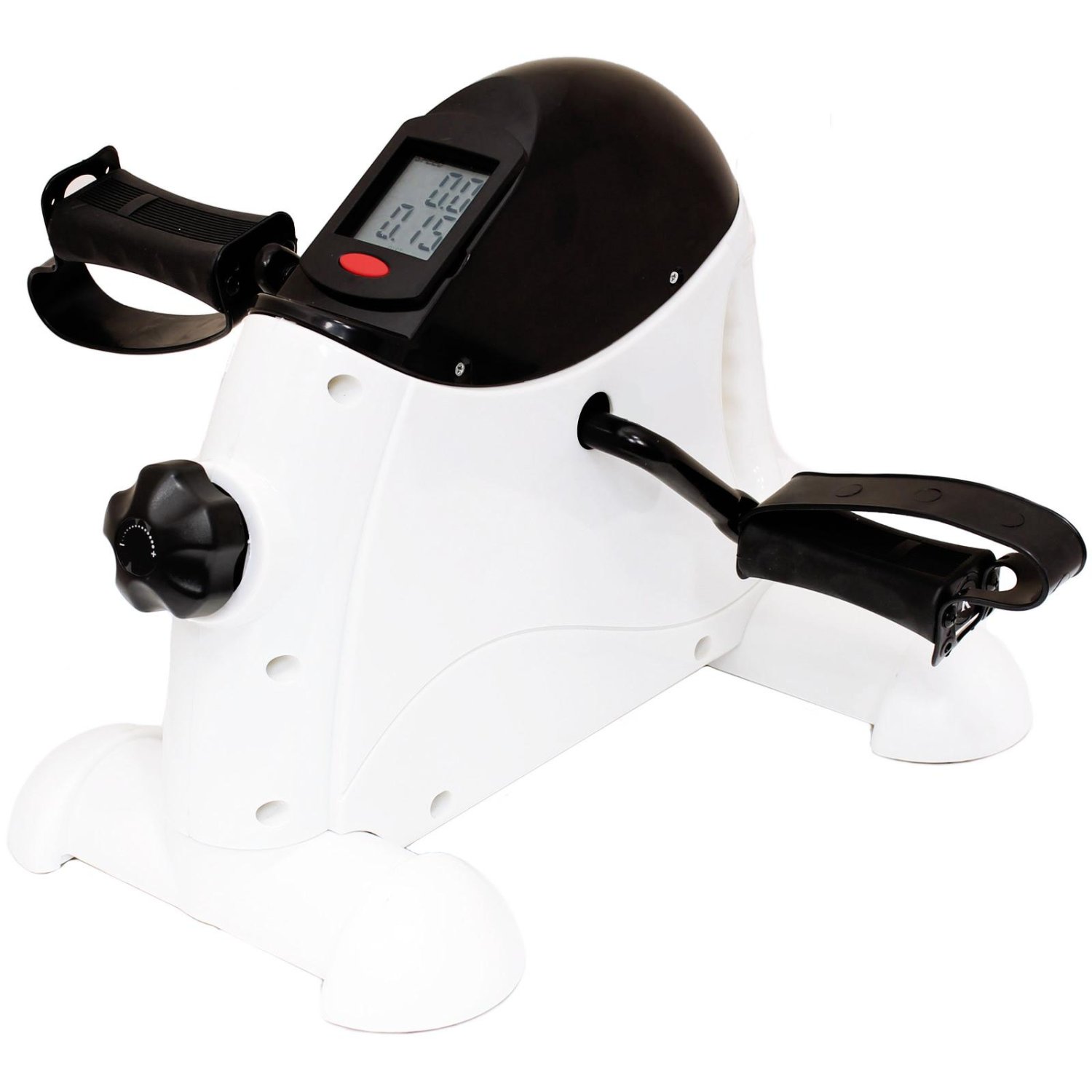 Do you have circulation problems, like to keep your legs in shape, but just have a hard time getting to the gym every day? Don't worry you are not alone, but the Oypla Arm/Leg Mini Cycle Bike is truly changing the way that people are working out. With the portable and unique design of this machine, you can literally take this fitness machine with you anywhere. It doesn't matter if you want to get a workout at home, on the road, or in the office, this machine can accommodate all your needs.
Built In Computer
Do you want to monitor your workouts, increase your resistance at certain intervals, and make sure that you are truly testing yourself every day? Well, with this unique piece of fitness equipment you can do all of these things thanks to the built-in computer and resistance adjustments. You can track your speed, distance, and even the calories that you have burned.
Pros

Adjust the resistance to customize your workouts
Track all your progress with the built-in computer
Portable design allows for home, travel, or in office use
Can work out both arms and legs
Cons
The computer analysis might not be as accurate as expected
Overall Assessment
Whether you are trying to find time to get in shape during the workday or while you are on the road, you can't go wrong with the Oypla Arm/Leg Mini Cycle Bike.
Pinty Motorized Mini Exercise Bike
When people spend a large portion of their time sitting at a desk or on a sofa, they are left with little time to exercise. Without exercise, your health will decline, putting you at risk of a broad range of diseases related to a sedentary lifestyle. If you truly want to incorporate exercise into your daily regimen, you should consider investing in the Pinty Motorized Mini Exercise Bike. This equipment is designed to provide people from all works of life with an upper and lower body workout.
Suitable For Both Arms And Legs
The Pinty Mini Exercise Bike comes two sets of pedals for leg and arm exercises. The pedals can be detached and reattached with ease, so you may the transition from arm to leg exercises in seconds. If utilized regularly, you will see a major improvement in your upper and lower body strength and cardiovascular health.
Pros

Automatic shutoff
Flywheel constructed out of cast iron
Measurements – 50.6cm L X 24.4cm D X 35.3cm W
Includes arm and leg pedals
Operates smoothly and efficiently
Compact and lightweight design
Cons
Overall Assessment
The Pinty Motorized Mini Exercise Bike is definitely impressive. It is a little more expensive than the alternatives, but it also offers more functionality and it'll let you track your progress along the way. If you want to see your results as you go, you should definitely consider investing in this unit!
ResultSport Folding Mini Arm and Leg Pedal Exerciser

ResultSport Folding Mini Arm And Leg Pedal Exerciser
Are you on the hunt for an outstanding pedal exerciser that will be sure to withstand the test of time? If so, you definitely need to check out the Folding Mini Arm and Legal Pedal Exercise from Result Sport. This product might be incredibly affordable, but it is also versatile and efficient. It can be used to work the legs and arms. Therefore, you'll be able to build muscles in both locations with this simple machine. It also offers an adjustable resistance level to ensure that it is capable of accommodating consumers of all fitness levels. Whether you're a beginner or a veteran, you can guarantee that this exerciser will be able to make you break a sweat!
Totally Convenient
By all accounts, the ResultSport Exerciser is very sturdy and efficient. Nevertheless, it is also convenient for the consumer. The product is lightweight and compact. This combination ensures that the owner will have little to no trouble moving it around. This guarantees that you'll be able to store it away in a closet after use. Just grab the metal bar and carry it away. The lightweight build ensures you'll have no trouble doing just that.
Pros

Adjustable resistance ensures this machine can accommodate everyone
Can be used for legs and arms
Lightweight, compact and easily portable
Non-slip rubber grips ensure the machine doesn't slide around
Improves muscle strength, coordination and blood circulation
Chrome steel will last a lifetime
Overall Assessment
All in all, it is really impossible to go wrong with the ResultSport Folding Mini Arm and Leg Pedal Exerciser. It may squeak a bit from time to time, but this should not be considered a deal breaker. The product is well worth the price and it'll definitely help you develop and define your leg muscles!