An inversion table is one of the best and most effective, low cost and drug free ways to relieve back and neck pain. If you have your own inversion table you can relieve your back pain at any time of day, whether at home or in the office – yes! some people really do have an inversion table in their office. Inversion table treatment uses the force of gravity to relieve pressure on the spine and lower back by decompressing the vertebrae, providing effective pain relief.
For those who are in hurry can check out our top inversion tables in UK in below comparison chart. If you'd like details on any model, click on the links in the table or read our reviews below.
Benefits of Inversion table
Inversion tables have been around for a very long time. Yet people have only recently seen the wonderful effects of inversion on the human. Why would anyone want to hang upside down anyway? Let's take a look at some inversion table benefits and understand why you should invest in inversion therapy tables now.
Inversion helps relieve back pain
How does back pain work? As you grow old, gravity takes its toll on your body, especially your spine. The downward pull compresses adjacent vertebrae, making them apply pressure on the tissue between them (the discs). As a result, this disc bulges out, hitting nerves that lie along your back. This radiates as pain that can be felt in various parts of your body – including your back.
Inverting allows you to decompress your spine, countering the downward pull of gravity. You effectively give your spine a nice, wonderful stretch; allowing your discs to reposition themselves and stop hitting nerves that cause you pain.
Inversion helps improve posture
Bad posture – almost everyone has it. Bad posture is often the sign of repetitive stress syndrome. These days people spend most of their time either sitting down or standing up. In addition, our back muscles grow weaker with age. As a result, our back does a poor job of supporting our vertebrae and shoulders. Hence, bad posture arises.
One of the benefits of inversion table use is spinal decompression. With this, you essentially give your spine the ability to support itself. This gives your back muscles a "well-deserved break", allowing them to rejuvenate and recover. In return, you get stronger back muscles. As a result, you get your good posture back.
Eases Levels of Stress
Tension and stress may also result in pain as well as muscle spasms in your neck, back, and shoulders. They are also the reasons why a lot of people experience headaches and other issues, including jaw pain.
Tension in the muscles is often attributed to spine misalignment, poor removal of toxins, and over-stimulation of nerves. It can also be caused by lack of oxygen circulation in your body.
Research has suggested that with the use of inversion tables, muscles are stretched, thus allowing for oxygen circulation to enter your muscles and create oxygen-rich blood, which helps your body perform better overall. Inversion therapy can also work in stimulating your lymph system, which can clear a buildup of toxins in your muscles.
Inversion therapy improves blood circulation
Inversion does the heart wonders too. To pump blood to farther parts of the body (i.e. your legs, arms and brain), your heart has to pump a little bit harder in order to counter the effects of gravity. By inverting, you "assist" blood flow, so to speak. You make it easier for your heart to pump blood faster and more efficiently.
Inversion therapy improves brain function
Inversion helps improve blood flow to the brain, allowing more nutrients to be transported to it. As a result, your brain function also improves. You'll have better memory retention and you'll react faster to stimuli.
Inversion therapy relieves muscle tension
If you think inversion only works with the spine, think again. Gravity takes its toll on your muscles and bone structure too. Inverting gives you a chance to counter this effect, giving your muscles and bones a breather. This allows them to rejuvenate and regain their strength and resilience once more.
Improves Health of Joints
Inversion therapy also involves the process of decompression. This procedure helps in joint lubrication by altering the suction and pressure forces in your joints. This allows for the stimulation of synovial fluid, which provides nourishment to joint cartilage and enhances shock absorption at the same time.
Attending to the health of your joints and spine should be very important to you, similar to the way you maintain the health of your teeth. Of course, there is no miracle solution for back pain. However, it can be prevented by ensuring that your joints are healthy. This can be done using inversion tables.
Best Inversion tables in UK 2023
Consumers need to be aware of the fact that the market is overflowing with tables and they're all different. So, what is the overall best inversion table? This is a question that you'll be able to answer after reading the information below.
66Fit Professional Inversion Table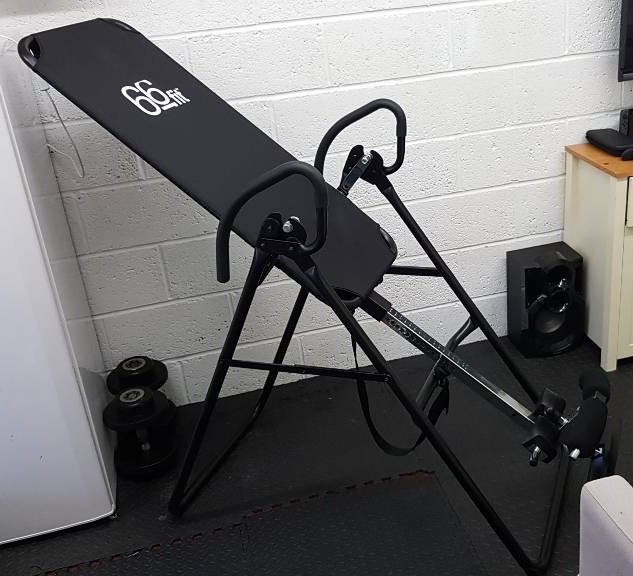 The 66fit Professional Inversion Table is designed to cater specifically to the professional. It is capable of adjusting to better accommodate the precise user at any given time. In total, it comes with 25 adjustments, so it should be able to accommodate pretty much everyone and anyone. The belt is also adjustable. This combination ensures that the user will remain comfortable and relaxed while using the table. The table might be a little more expensive than some of the others, but it offers superior durability and balance.
Excellently Versatile
One thing to note is that the 66Fit Professional Inversion Table is incredibly versatile. It is truly capable of satisfying pretty much everyone. It can support a maximum weight of 136kg. Simultaneously, it is suitable for consumers measuring between 4'9" and 6'6". No matter how much you weigh or how tall you are, you can pretty much guarantee that the 66Fit Inversion Table will work well for you. Thanks to its versatility, this table is ideal for professional and personal use.
Pros

Ideal for household and professional use
Can support up to 136kg in weight
Suitable for heights from 4'9" to 6'6"
Can be folded down for easier storage
Includes 25 adjustments
Excellent balance gives the user more control
Very strong and sturdy
Overall Assessment
If you're looking for the best of the best and do not mind spending a little extra, you need to check out the 66Fit Professional Inversion Table. It is truly versatile enough to accommodate your entire family!

SportPlus Inversion Table
The SportPlus Inversion Table is best for consumers that want to alleviate their backpain and save a little bit of money. This table is available in two colors, red and black. It offers four inversion angles, including 20, 40, 60 and 80. It is also designed for simplistic use. Just move your arms above your head and the table will take care of the rest. This makes it a good choice for beginners.
Weight And Size
When the SportPlus Inversion Table is fully assembled, it will measure in at 116 by 67.5 by 159 cm. It weighs roughly 24.5kg. It should also be known that the table is foldable. This makes it slightly easier to store away after use.
Pros

Foldable for easier storage
Available in black and red
Supports up to 135kg in weight
Includes four adjustable angles
Perfect Balance system makes use much easier
Supports user heights of 154 to 199 cm
Cons

Assembly can be difficult, due to poor instructions
Leg brackets can be uncomfortable with prolonged use
Overall Assessment
Despite a few minor cons, the SportPlus Inversion Table is still a good investment for the price. If you want to save money and alleviate your backpain, you need to check out this table today!

Beauty4Less Inversion Table
The Beauty4Less Inversion Table is cost-effective and surprisingly versatile. It can easily accommodate most users, but some taller individuals may feel left out. In total, the table is suitable for heights ranging from 4.2 feet to 6.2 feet. The table only weighs 19kg, so you'll have no trouble moving it from place to place.
Weight Limit
The Beauty4Less Inversion Table is designed for smaller individuals. It can only support a maximum of 100kg in weight. As long as you're lean and thin, you'll absolutely love this table.
Pros

Can support heights of 4.2 feet to 6.2 feet
Bed and head rest are padded for comfort
Weighs just 19kg for easier mobility
Can be folded
Ankles are protected with foam pads
Includes soft grip handles
Cons

Can only support up to 100kg of weight
Plastic parts are not durable at all
Overall Assessment
The Beauty4Less Inversion Table is definitely not for everyone. Nevertheless, it will make a good investment for some. As long as you're aware of the table's limitations and it suits your needs, it will definitely satisfy you!
Yatek Foldable Inversion Table
The Inversion Table Yatek ECO includes everything needed to invert 180 degrees. The table is designed to offer a broad array of benefits, including affordability, durability, height adjustability and easy storage. For those who desire to invert at 180 degrees and have a strict budget, this is the inversion table for you. The logo is visible on the back support, which offers a comfortable platform during inversion.
Fully Adjustable
The adjustable height feature will allow the inversion table to be utilized by an unlimited number of people. The height can easily be adjusted up to 195 centimeters, which is perfect for tall-statured individuals. This feature not only ensures you receive a more use from the Yatek Inversion Table, but also you will get your money's worth from the investment.
Pros

Foldable, compact design
Inverts up to 180 degrees
Adjustable height up to 195cm
Supports up to 150 kilograms of body weight
Easy assemble process
Includes a 2-year manufacturer's warranty
Cons

Leg bindings are a little uncomfortable
Instructions could use improvement
Overall Assessment
The Yatek ECO Inversion Table is suitable for both females and males. Its affordable price tag makes it perfect for consumers living on a budget. Once the table is assembled, it will provide a sturdy, balanced and 180-degree inversion.

Teeter Hang Ups EP-560 Inversion Table
Teeter offers top of the line inversion tables, gravity boots and other inversion paraphernalia. As a matter of fact, they're inversion tables are the most imitated in the market today. Despite their efforts, they still can't match up to the quality and technology of Teeter inversion tables. One of their best selling Teeter Hangups Inversion Table models are the ones in the EP series. EP stands for Exceptional Performance. What sets the EP series from the other models is that it's designed for regular home use.
The Teeter Hang Ups EP-560 is a visually appealing training unit that can help you strengthen you core. These inversion tables are very effective for the treatment of joints and muscle pain and there is no requirement to pay heavy amount physiotherapy when you have this at home. It's also very easy to assemble this inversion table. Very easy to assemble and set up. The table is dispatched 90% pre-assembled and comes with full instructions. Although the company state that it takes 13 minutes to assemble the EP-560, we reckon that it would take the average person about 15 – 25 minutes to initially set up the table, including easily adjusting the settings for their own weight and height.
The EP-560's smooth, durable plastic surface reduces the friction created during inversion and improves decompression and comfortable flexes during the user's stretching and exercise motions. It features a heavy-duty carbon steel base that allows for a raised grip that enhances stretching, corner feet that increase the width of the base and protect your floors and a shiny, scratch-resistant finish for an attractive appearance.
Pros

The Teeter Hang Ups EP-560 can support up to 300 pounds.
Its foldable design allows you to reduce its size from 60 x 59 x 29 inches to 20 x 28.8 x 66 inches in just a few moments.
Durable steel base consists of corner feet that do not damage your floors. Its quality finish keep it protected from scratches.
Stretch support handles give you a better grip surface.
Determine your required inversion angle with pre-set rotation mechanism.
Patented Ergo-Embrace design is used for ankle support system. It consists of exclusive pressure-limiting foam that ensures better comfort and support.
Adjust the Lumbar Bridge to either a supportive curve or a dramatic arch according to your special exercise session.
Use the Acupressure Nodes to release your anxiety and improve blood circulation.
Cons

Takes more space
More expensive
Overall Assessment
The Teeter Hang Ups EP-560 is one of the best selling and well built quality inversion tables currently available on the market today.
It is more expensive, but if you've been suffering from back pain for years, then you may want to just fork out that one-time payment for this inversion table and enjoy a pain-free back for many years to come.
Teeter EP-960 Ltd. Inversion Table
What makes the Teeter Hang Ups EP-960 inversion table a standout product among the rest of the competition is that it is jam-packed with technologically advanced features. It has an extended ankle lock, pre-set rotation controls, stretch-max handles with built-in angle guides, a pressure-reducing board, and more. Another unique feature is its EZ-Reach Ankle System that helps users who have problems in bending over to reach their ankles, as it comes along with an extended handle for the ankle lock system.
Pros

Fairly easy to set up and assemble
Puts almost no pressure on your ankles
Ankle lock allows pre-set rotations of 20, 40, and 60 degrees
Really helps in realigning your back
The traction handles allow for easier release from inversion
Comes with five-year warranty coverage (including the parts)
Comes with a "healthy back routines" manual for guidance
Cons:

Overall Assessment
If budget is not a big issue for you, you'll love this Teeter Hang Ups model, especially if you are experiencing long-term back problems. Lower-end models may not solve this type of problem. This is also perfect if you want to prevent pain from occurring in the future. Quite a few customers have complained that this product ships without the proper hardware to build it, so be aware that you might need to make some calls to customer service.

Skandika Unisex Gravity Coach Inversion Table
The Skandika Inversion Table is ideal for consumers that want to rectify their backpain in the comfort of their own home. The table is foldable to ensure it can be stored away in a closet pretty easily. It is also equipped with ergonomically-designed foot brackets for added comfort during use. With safety levers near the feet, you can guarantee that you'll never slip and slide! The table is very durable, comfortable and safe.
Can Support Most
This inversion table is pretty flexible as well. In total, it can support a maximum weight of 135kg. It can also adjust to work with body sizes ranging from 147 to 198 cm. This product can also be locked in at four different angles. This guarantees that everyone will be able to achieve the results that they're after.
Pros

Can be locked in at 0, 20, 40, and 60 degree angles
Hand rails are padded for easier use
Can support up to 135kg of weight
Suitable for people ranging from 147 to 198cm
Very sturdy
Surprisingly easy to assemble
Cons

Slightly fewer adjustments
Overall Assessment
The Skandika Inversion Table might not be as versatile as some, but it is still a great value for the money. If the table is only going to be used by one or two people, it should be perfect. Otherwise, you might want to upgrade to a professional inversion table.

Inversion Tables – Do They Work?
Despite the growing popularity of inversion therapy, many people still remain skeptical about its benefits. So, inversion tables do they work? Most of the people who do inversion exercises on a regular basis report that it is indeed an effective treatment for back pain. The history of inversion therapy itself is proof that it indeed works. The Father of Medicine, Hippocrates, was said to have used simple pulleys and ropes to suspend and invert patients suffering from back pain.
How does inversion therapy work?
Gravity gradually takes its toll on your body. Your muscles, bones and spine fight against gravity to keep your body upright. In time, even with exercise and proper diet, your body will give in to the adverse effects of gravity.
The principle behind inversion therapy is simple yet powerful – counter the effects of gravity by turning your body upside down. By inverting, you let gravity pull on your body in the opposite direction, making it "undo" and negate some of its effects.
Let's take back pain, for example. One of the causes of back pain is herniation. As gravity pulls on your spine, some of your adjacent vertebrae tend to put pressure on the tissue that separates them. This tissue (called discs) will gradually bulge outward, hitting nerve cells that lie along your back. Pain then radiates outward from the location of the herniated disc and can be felt in various parts of the body, not just the back.
By reversing the pull of gravity through inversion, the spine is gradually decompressed and pressure is taken off the discs, allowing them to move back into position. This keeps them from hitting the nerve cells through which pain is manifested. No pressure, no pain.
What are the benefits of inversion therapy?
There are other reported inversion table benefits. Though some of these are not experienced until after months of continued use, nevertheless, they show that inversion therapy potentially improves longevity. Here are some of these benefits:
Improved blood circulation
Enhanced brain function
Reduced muscle tension
Improved posture and body symmetry
Stronger muscles and ligaments
Increased nutrient flow
Relief from fatigue and stress
Re-hydrated discs
Do inversion tables work?
User testimonials on various inversion tables, boots and equipment mostly report success in battling back pain and other related disorders. Furthermore, before its introduction in Western countries, inversion has been widely accepted in Asia and many can attest to its wonderful benefits.
Is inversion table for everyone?
Despite the power of inversion therapy, it's not for everyone to enjoy. There are certain medical conditions that can prevent any individual from performing even its basic stretches. Here are some conditions that might hinder you from practicing inversion therapy:
Osteroporosis
Middle ear infection
Glaucoma
Hernia
Heart disease and high blood pressure
Pregnancy
Previous history of stroke
Before practicing inversion therapy or using inversion tables and equipment, it's imperative that you consult your doctor first.
Choosing the Best Inversion Table for Your Needs
We like to break down what we are looking for in an inversion table in a few different categories.  While this list could be much more exhaustive, these are the three things that I recommend a buyer to look for when making a decision about buying an inversion table for their home.
Price:  While we would all like to get the best inversion table possible, some of us just don't have the budget to buy the most expensive inversion models on the market.  With that said, one can still buy the best model in their particular price range if they do the right research.  Some of the most popular Teeter Hang Ups machines on today's market, such as the Teeter Hang Ups Power XL table will run your in excess of £2,000, but one can find a similar model that they can buy for around £500.
Need:  Just like not all people are built the same, all of us might not get the same benefits from the same inversion table.  Think of how different we look on the outside and then imagine each of us on the inside.   Our bone structure, muscle mass and injury history are just a few of the many things that contribute to our body style.  A typical £150 table might works wonders for a 25 year old with some lower back pain, but may not be sturdy enough for the 55 year old who is slightly overweight and has slouching problems.   This is why it is necessary to try out a few models before making a purchase.
Quality:  Let's face it nine times out of ten you pay what you get for when it comes to exercise machines.   We have all bought a low priced treadmill or exercise bike that soon became part of our closet because it was nothing compared to the one at the local gym.  This is also true with tables as it is a necessity to do a thorough research on inversion table reviews before making a purchase.  While many local retailers do not have inversion tables to try out, taking other people's reviews and making an educated decision is probably the best option when it comes to purchasing a unit.
How to use Inversion Table
As what experts say, using the device can bring many benefits to users. But these benefits will only be realized if it is properly used and the users strictly followed their physician's instructions in using it. As one of the persons wanting to receive the benefits this equipment can bring, you want to make sure that you are using it appropriately.
Before Starting: Wear the Right Clothing and other Related Gear
Using this device is like an exercise. You need to wear the proper clothing as well as other gear to ensure your comfort and safety. In the case of inversion, it is a must to wear comfortable clothing which should not be too loose. Comfortable shoes must also be worn along with thick socks for support to prevent your ankles from getting sore.
Set Up the Equipment in an Ideal Environment
Look for an open room where enough space for moving is available then start setting up the device there. Make sure to position the device away from chairs and tables and other possible interruptions.
Adjust the Equipment Properly
The adjustments to be made on the equipment vary from person to person, which specifically depends on the user's weight and height. The adjustments can be made just once if you are the only one using the product.
If your table is one of those featuring advanced safety straps, make sure that they are tightened well. Always check if the straps are properly attached to the table before starting. Use the included manual for guidance if you are not sure how to attach the straps. You can start fastening the straps on your body as soon as you are certain that they are securely and safely attached to the table. Make sure to tighten the straps as you work on fastening them into your body.
Positioning the Table to the Least Degree Angle
Most tables have 10 degrees as its minimum degree angle. Your table must be positioned in this angle before you mount on it.
Positioning Yourself on the Inversion Table
Check if the straps on your feet are comfortably and correctly fastened as soon as you are mounted. This must be checked because it is important for your feet not to move during the therapy. Wearing the right shoes, specifically a pair of tennis shoes, helps in making your feet comfortable while it is fastened with straps on the table.
Next step is to start lifting your hands above the shoulders once you are done checking if your feet are strapped securely. Just like with securing your feet to ensure that it won't move during the therapy, it is also essential to keep your hands above your shoulder throughout. This is the key to giving your spine an effective workout.
Starting at Low Degree Angles and Increasing it as You Work Out More
One basic tip that you must practice is to start at lower degree angles (10 degrees) if you are just beginning with the inversion therapy. Beginners are not advised to go on full inversion immediately because it will only overwork the body and further pressure the spinal column. But you can certainly increase the angles gradually as you continuously use the inversion table and as your body gets more used to the switch in gravity.