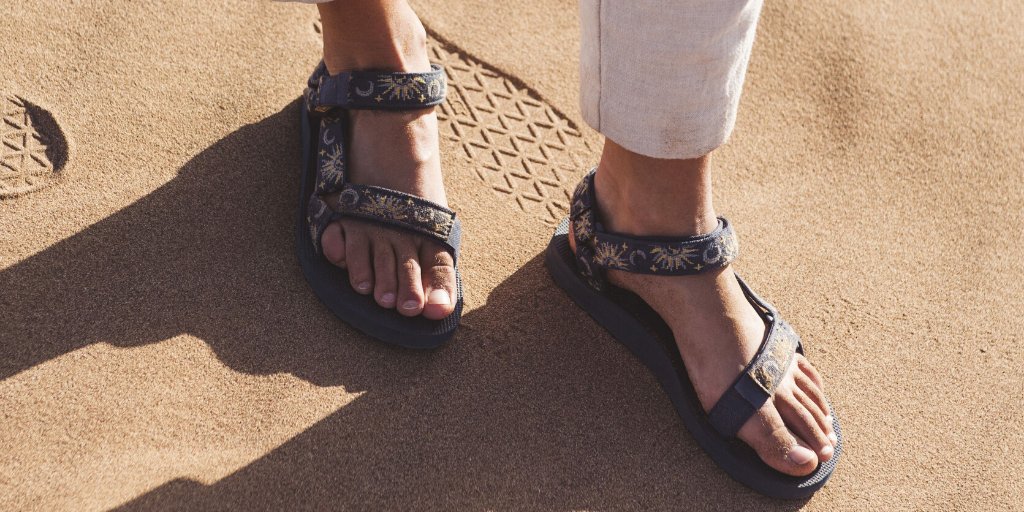 When it comes to summer footwear, walking sandals are a must-have for women seeking both style and comfort. These versatile shoes offer the perfect blend of fashion-forward designs and functionality, making them ideal companions for any outdoor adventure or casual stroll. Whether you're exploring new destinations, going for a hike, or simply running errands around town, finding the best walking sandals can enhance your overall experience.
In this article, we will explore the top choices for women's walking sandals, taking into consideration factors such as comfort, durability, support, and style. We understand the importance of having footwear that not only looks great but also provides the necessary support and cushioning for long hours on your feet. From renowned brands to innovative designs, we will present a range of options to suit different preferences and budgets.
| Image | Model | Prices |
| --- | --- | --- |
| | Teva Women's W Terra Fi Lite Sandal | |
| | Crocs Women's Swiftwater Sandal | |
| | Skechers Women's Reggae Sandals | |
| | GRITION Women Hiking Sandals | |
| | Mountain Warehouse Oia Womens Sandals | |
How to Pick the Right Walking Sandals for Your Intended Use
Urban Walking
When picking the best walking sandals for city strolling, it's important to consider factors like style, comfort, and durability. Look for sandals that will go well with a variety of outfits, like strappy or slip-on sandals. Opt for sandals with soft padding and a sturdy sole for all-day comfort while walking around town. You'll also want to make sure the soles have good traction, which is essential on slick sidewalks and other urban surfaces.
Adventure/Outdoors
If you're planning on doing some serious hiking or outdoor adventuring, then you need a more intense and durable sandal. Look for sandals with sturdy straps that offer good support and a thicker sole for increased durability on uneven terrain. Waterproof capabilities are also key, especially if you're going to be crossing water. Along with good tread and excellent arch support, you also need a well-ventilated pair that will keep your feet cool and dry.
Water Activities
When you're planning to embark on a water-based adventure, it's essential to pick sandals with excellent water resistance. Look for sandals that are waterproof and quick-drying, like those with a webbing upper or straps made from synthetic material. Some water sandals also have an adjustable fit so that you can customize the level of tightness while keeping your feet safe and secure.
Beach Walking
For beach and coastal walks, you want sandals that can hold their own in sandy, often slippery conditions with good traction. Sandals in this category should have a water-resistant upper and a quick-drying design. Arch support is also essential for long walks along the coastline, and it's necessary to have a pair with a soft, cushioned footbed that can take the impact from walking on sand or concrete. Some beach sandals come with additional features such as toe protection for rocky shores.
Best Walking Sandals For Women in UK 2023
Frequently Asked Questions
What are the best shoes for plantar fasciitis?
The best shoes for plantar fasciitis have good arch support and cushioning in the heel and forefoot. Shoes from reputable brands like Nike, Brooks, Asics, and New Balance often have features that combat plantar fasciitis such as wider toe boxes, removable insoles, and shock absorbing technology. Look for shoes that offer a combination of stability, support, and comfort for both casual and athletic wear. Avoid shoes with flat soles and little support such as flip flops or ballet flats. Proper footwear is key to reducing pain and inflammation from plantar fasciitis.
Do toe-correcting sandals work?
Yes, toe-correcting sandals can work to a certain extent depending on the severity of your toe issues. These sandals feature specific designs that aim to correct the alignment of your toes, relieve pain and discomfort, and prevent the progression of deformities. However, it is important to note that results may vary from person to person, and it is crucial to wear these sandals consistently and give your toes adequate time to adjust. Additionally, toe-correcting sandals are not a substitute for professional medical advice and treatment. If you have severe toe conditions, consult with a professional healthcare provider.
Is it bad to walk long distances in sandals?
It is not recommended to walk long distances in sandals as they lack the necessary support and cushioning needed to protect your feet and joints. Sandals are typically designed for short walks and casual wear, not extended periods of activity. Walking long distances can lead to discomfort, blisters, and even injuries. It is important to have proper footwear, such as walking sandals with arch support, shock absorption, and a secure fit to avoid foot problems and enjoy a comfortable walking experience.
Conclusion
After researching and trying out several walking sandals, it's clear that the perfect pair of sandals is out there waiting for you. The best walking sandals for women are a mix of comfort, style, durability, and versatility. They should provide excellent arch support, come with adjustable straps, and have a cushioned footbed.
While comfort is king when it comes to walking sandals, it doesn't mean you have to sacrifice style. You can easily find sandals that combine both. From sporty to chic, there are countless options available that will fit your style.
Investing in a quality pair of walking sandals is worth it. They are perfect for traveling, outdoor activities, and everyday wear. Walking in the right pair of sandals can make all the difference in the world.
So, whether you're planning a summer vacation or just need a new pair of shoes for your daily walks, make sure to choose the best walking sandals that fit your lifestyle. With the options available, you're guaranteed to find the perfect pair to take you where you want to go.